"His intonation is irreproachable, his technique clean, his tone uncommonly pure, and he communicates directly with a musical sensitivity that demands and holds the attention."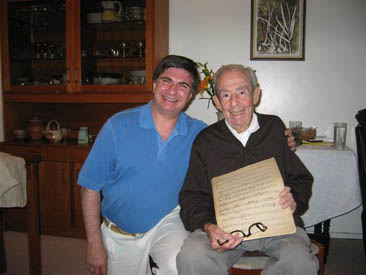 Acquiring the manuscript of Feuermann's
Tartini Variazione from Mosa Havivi
2004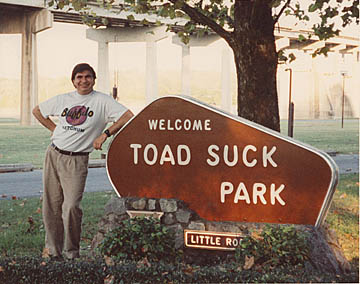 On tour in Arkansas
Fending off wolf attack
Homer, Alaska 2002
Arnulf von Arnim, Paul Rosenthal and J.S.
catch some rays in Anchorage, Alaska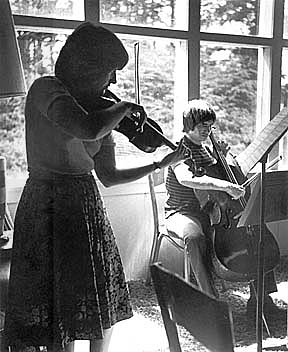 Rehearsing with Ani Kavafian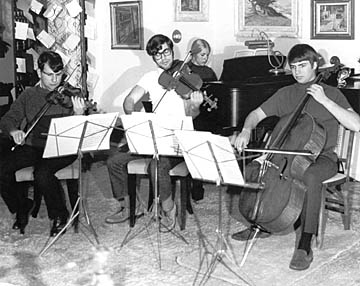 Piano quartet rehearsal with Michael Foxman
(former concertmaster of Oregon Symphony),
Jerry Epstein (member of LA Philharmonic) and
Marilyn Swan (professor at UC Davis)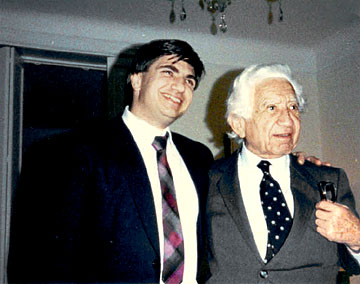 Jeffrey Solow and Henri Temianka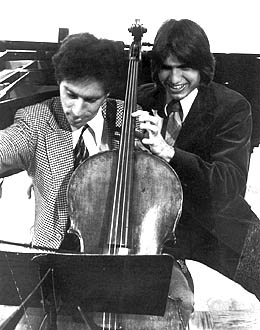 Perfecting duet technique with
Nathaniel Rosen
Ah, the 70's
Piatigorsky Seminar at USC, 1981 Including
Mischa Maisky, Lynn Harrell, Eleonore Schoenfeld,
William Pleeth, Louis Lowenstein, Steve Balderstone,
Dan Smith - Photo by J.S.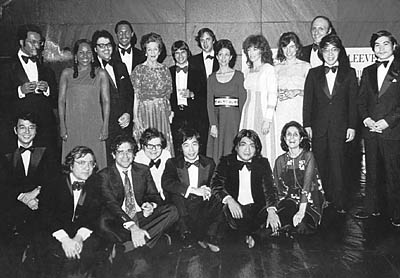 Young Concert Artists gala with Alice Tully, et al
Busking with Danny Rothmuller
in Ojai, California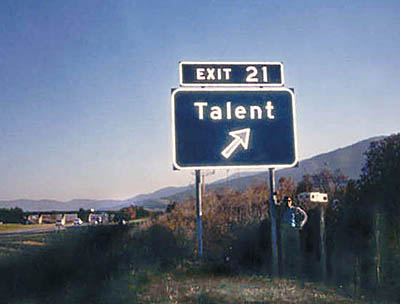 If you are not born with it you can drive there
Playing principal cello of the
YMF Debut Orchestra
with Michael Tilson Thomas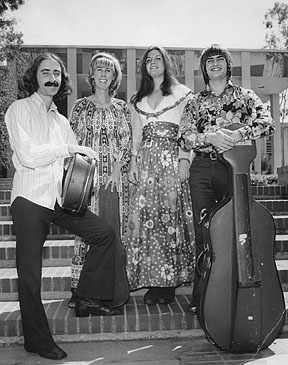 The UCLA Young Artists: Paul Polivnick,
Kathleen Lenski, Mona Golabek, Jeffrey Solow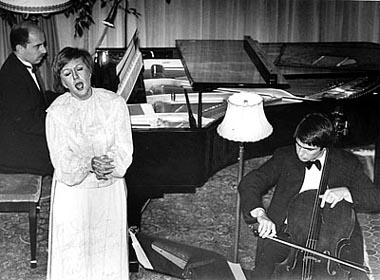 Performing with Armen Guzelimian and Marni Nixon
at the Pasadena home of Trader Joes' founder, Joe Coulomb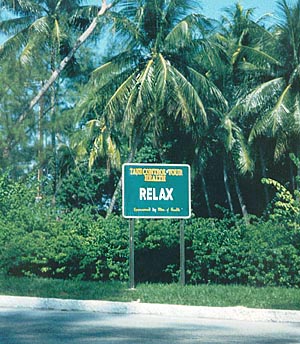 On tour in Nassau. Bahamians
know what is important!
Science fiction author Robert Silverberg read from my copy
of his Nebula Award-winning short story "Passengers"
at his Pelican Records recording session in 1976.
Zino Francescatti coaches Kathleen Lenski
and me in the Brahms Double, 1973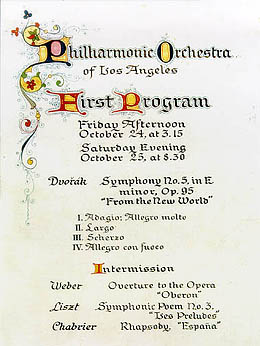 My grandfather, Martin J. Jackson, illuminated the program
for the Los Angeles Philharmonic's inaugural concert in 1919
(go to his website from my Links page)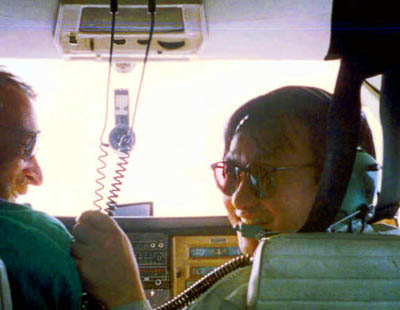 Ik-Hwan Bae, co-pilot - Gustavus, Alaska
(photo by J.S.)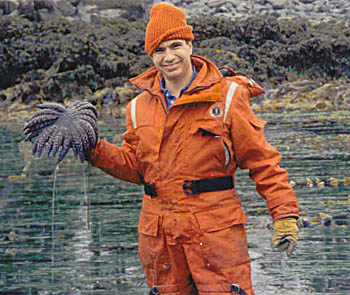 Low Tide in Sitka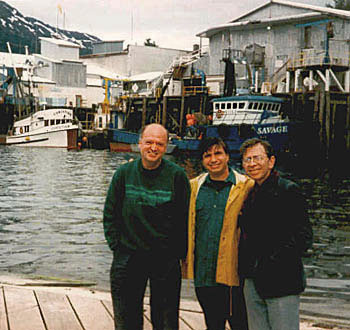 On tour in Pelican, Alaska with
Christiaan Bor and Jerome Lowenthal
Up a tree in Sitka with Godfried Hoogeveen
(principal cello of Konzertgebau Orchestra)
and Laura Higbee
Los Angeles Times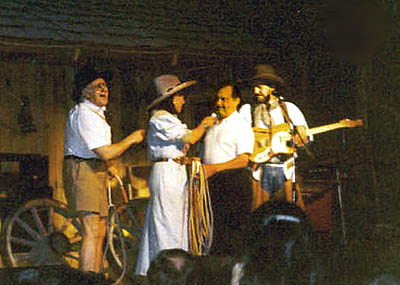 Slava and Bernie in Wild West Show at the
American Cello Congress in Phoenix, AZ
(photo by J.S.)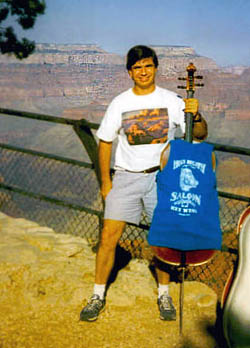 Hog's Breath Saloon in Key West
meets the Grand Canyon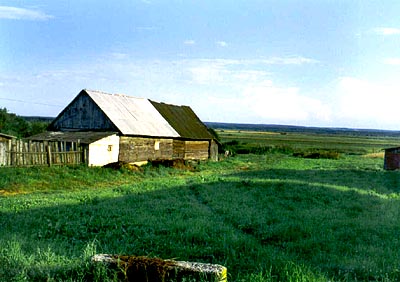 Panorama near the hamlet of Kobachi, Belarus --
ancestral home of grandfather Julius Soloveichik (Solow)
(photo by Zev Yaroslavsky)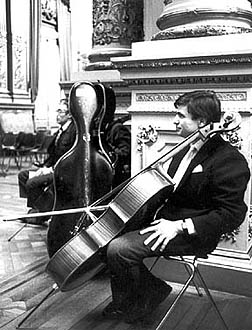 Masterclass at the Teatro Colón
Buenos Aires 1987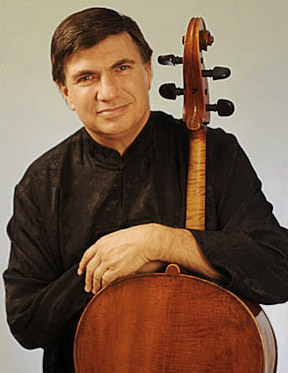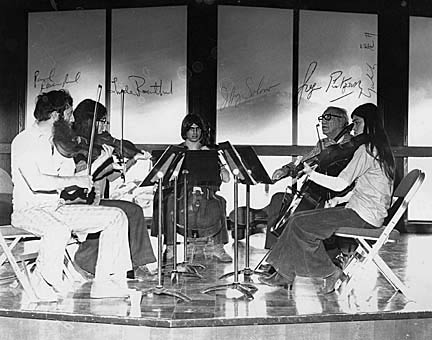 Schubert Quintet in Sitka, Alaska
Paul Rosenthal, Linda Rosenthal, Jeffrey Solow,
Gregor Piatigorsky and Yukiko Kamei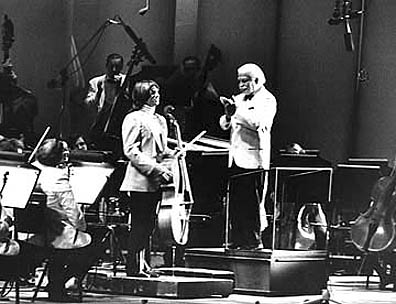 Performing with Arthur Fiedler
at the Hollwood Bowl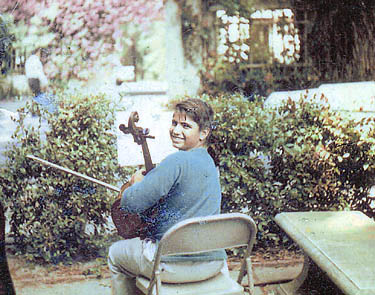 Practicing in Music Academy of the West garden
1964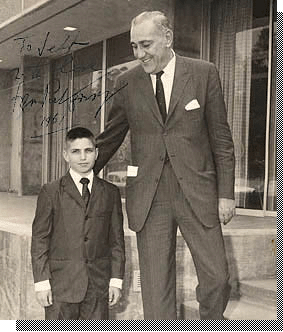 Jeffrey Solow and Gregor Piatigorsky
1961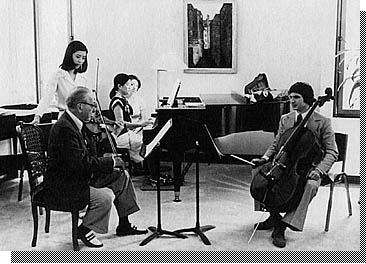 Chamber music with Jascha Heifetz
and Ayke Agus
(Yukiko Kamei standing and Sherry Kloss turning pages)